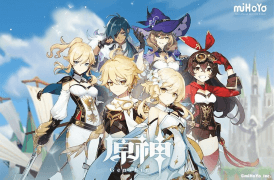 How to Securely Buy and Sell 「Genshin Impact」 Accounts|genshin impact account for sale
In this article, we will introduce some recommended methods to secure your account sales and purchases for「Genshin Impact」.
I want to sell my「Genshin Impact」game account! Want to buy!
But for those who don't know how to do it, AppSpark explains how to sell and buy safely from its own perspective!
Can I sell or buy a Genshin Impact account?
In conclusion, Genshin Impact accounts can be bought and sold.

You can easily sell and purchase mainly by using SNS and flea market sites.
While it is easy to do, troubles may occur due to the exchange of money, so we will also explain the points to note in detail!
How to transfer Genshin Impact game data
When buying and selling Genshin Impact accounts, it is necessary to transfer the game data.
A miHoYo account is required to play Genshin Impact.
Since the data is linked to this miHoYo account, you can take over the data by logging in with the device you want to transfer the account.
Therefore, the sale is completed when the seller communicates the "miHoYo account / password" to the purchaser.
Other than that, account linking is also possible in the following ways.
・Google
・Game Center
・AppleID
・Facebook
・Twitter
Precautions when taking over the Genshin Impact Account
Please note that there are patterns in which data cannot be migrated depending on the device.
| | | |
| --- | --- | --- |
| platform | Destination | share |
| smartphone | PC | ○ |
| PC | smartphone | ○ |
| PS4、Switch | smartphone、PC | × |

Data can be shared between PC and smartphone

If you want to enjoy the game on multiple devices, play on Android and iOS or PC.
PS4 and Switch cannot share data with other devices

PS4 and Switch data cannot be shared with other devices.
Data sharing between PS4 and Switch is also not possible

Data sharing between PS4 and Switch is also not possible.
Transfer between PS4 is possible

If you use the same PSN account, you can share and transfer data between PS4s.
Don't forget to remember the account you used when you played Genshin Impact.
Is it illegal to sell/purchase Genshin Impact accounts?
Some of you may be wondering, "I heard that buying and selling Genshin Impact accounts is illegal, but is it actually true?"

For such people, I will explain whether selling or purchasing Genshin Impact accounts is illegal!
In conclusion… it's not illegal to sell or buy Genshin Impact accounts!
Currently, there is no law prohibiting the sale or purchase of Genshin Impact accounts.
Even lawyers say it's not illegal.
However, according to Genshin Impact's terms of service, account transfer itself is prohibited.
Article 13 of the Terms of Use of Genshin Impact corresponds to this.
Quoted from the Terms of Service of Genshin Impact

"Although the law does not prohibit the sale and purchase of Genshin Impact accounts, it is not permitted under the internal rules of Genshin Impact."
※Buy and sell accounts at your own risk.
Selling a Genshin Impact account (sales method)
How to sell your account
"Selling on SNS", "Requesting a purchaser", and "Using a flea market site" are representative of these three methods.
Each method has advantages and disadvantages
In AppSpark, we will introduce how to sell at 『Game Club』, which can be said to be the safest.
Sign up for Game Club

1.Tap [Member registration] in the upper right of the top screen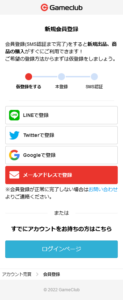 2.Perform temporary registration from the desired registration method.
3.After entering your email address and password, tap Register
※This time, you will be registering with your email address.
4.Confirm that the URL for final registration has been sent.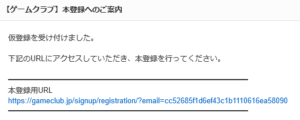 5.Check your mailbox and tap the registration URL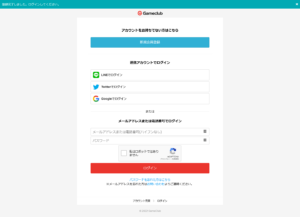 6.Enter your email address and password and tap [Login]
Registration is complete when you go to My Page!
Sell ​​Genshin Impact at Game Club
After completing the registration, I would like to list it immediately, but the「game club」requires SMS authentication for security reasons.
From here, I will explain the procedure from phone number verification to listing.

1.Tap [Sell] on the bottom right
2.Enter a phone number that can receive SMS and authenticate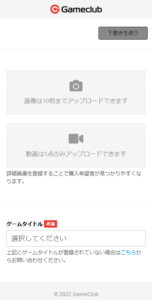 3.
Tap [Sell] on the bottom right
4.Enter "Genshin Impact" as the game title and select "Genshin Impact"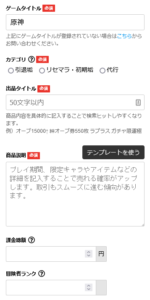 5.Select a category, and write the listing title and product description in as much detail as possible!
Points to consider when selling
It is recommended that you describe what kind of account you have and attach an image.
player rank
play period
Billing amount
Number of 5-star characters owned
Possession of 5 star weapons
If you don't know how much to price, you can ask other users to give you a price by using the "assessment bulletin board".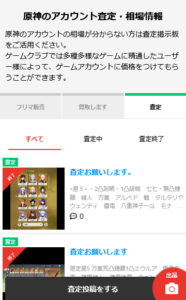 game club appraisal board
After entering all the information, tap [Confirm] to check whether there are any omissions.
Tap [Sell] to complete the listing!
Buy a Genshin Impact account (purchase method)
I will introduce how to buy a Genshin Account using the Game Club as well as how to sell it.
If you have not yet logged in to the game club or registered as a member, please follow the procedure described in the sales section.
Enter "Genshin" in "Search by Game Title" on the top page to access the Genshin Account Sales/Purchase List screen.
Genshin Impact is a popular title, so you can also access it from the recommendations on the top screen.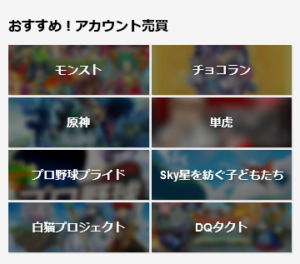 Recommended account buying and selling on the top page
If you have decided on the desired amount and conditions for the account you want, tap [Filter].
It is convenient to set the amount, rank, etc.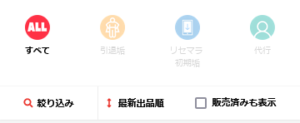 Account type selection tab in listing list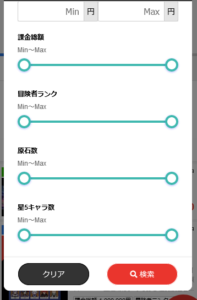 Refinement screen for advanced search
How to safely sell and purchase Genshin Impact accounts
The flow of transactions at the game club
Purchaser deposits money ⇒ Game club management receives payment ⇒ Product delivery ⇒ Purchaser reviews ⇒ Sales proceeds are reflected in seller
It is
For the operation of the game club to "temporarily deposit" the "price"
There is no such thing as "running away with accounts", so you can proceed with transactions safely.
Seller: Do not tell the buyer ID and password before payment
If you tell your ID and password before depositing, your account may be stolen.
Let's tell your ID and password after confirming that the money has been deposited!
Buyer: Check that the account is working properly and change the password before reviewing
If the seller changes the password arbitrarily after the transaction and the buyer cannot enter, trouble may occur.
Also, if you do a review, the price will be reflected and the seller may not be able to respond.
Be sure to check your account and change your password before reviewing!
Summary of account sales and purchases for Genshin Impact
□Buying and selling Genshin Accounts is not illegal
□The account of Genshin will be delivered with "miHoYo account ID / password"
□You can buy and sell safely with GameClub
---